Skip Maine state header navigation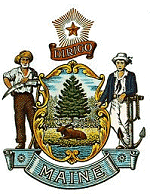 Maine Bureau of Motor Vehicles
Driver Cross Check: How it Works
Step One:
Set up your profile
Use the Cross Check Profile Editor (shown below) to enter the names & date of birth, or driver's license number of each driver in your profile. Tell us how often you would like us to check your driver's records, and the email address you would like your notifications sent to.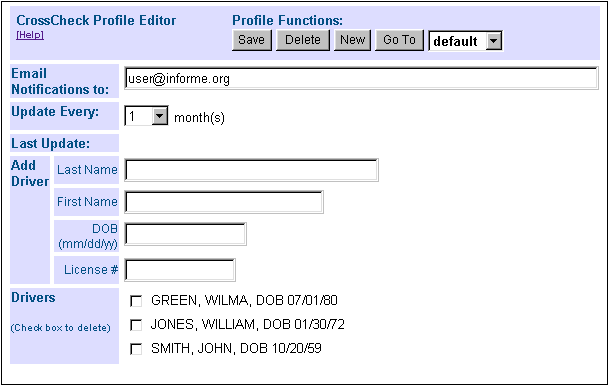 Each $15 check allows you to check 10 drivers. Add $1 for each additional driver in your profile. You may create as many profiles as you wish, since you are billed by how often you choose to have them checked.
Step Two:
InforME performs the check, and sends you an email

From: InforME CrossCheck 
To: user@informe.org
Subject: InforME CrossCheck Report

Here is your InforME CrossCheck report of 03-15-2000. Each driver you have
listed on your CrossCheck profile is shown, along with an indication if
there have been any accidents, convictions or suspensions recorded on the
driver's history since your last report of 12-02-1999.


Status     Driver ID
---------  -------------------------------------------------- 
*CHANGED*  CHURCH, JOSEPH DOB 041777
*CHANGED*  DUKAT, TAMARA DOB 102262
UNCHANGED  DUKAT, TOMAS DOB 012264
UNCHANGED  TOLBO, TOTO DOB 102059
UNCHANGED  VINCENTI, SASHA DOB 041366
*CHANGED*  WING, FRANCIS DOB 080555

--
InforME
The Information Resource of Maine
http://www.informe.org
info@informe.org
Say you choose to have 5 drivers checked each month (Profile A), whereas 3 drivers you only check on a quarterly basis (Profile B). For profile A (the monthly list), you'll get an email every month indicating whether or not there has been a change in the record. If one particular record has changed, it will be hyperlinked to the actual driver record. For the $7 statutory fee, you can see the nature of the change. Profile B works exactly the same way, but you'll only get an email for that group once per quarter. Your annual bill will be:
| | | | |
| --- | --- | --- | --- |
| | Report Fee | Reports/year | Annual Total |
| Profile A | $15 | 12 | |
| Profile B | $15 | 4 | |
| Total | $180 | $60 | $240 |
Step Three:
Maintain your account
Driver Cross Check is a subscription service with InforME. If you have already paid the annual subscription fee to InforME, you may use your existing user names and passwords to use Driver Cross Check. If you need to subscribe to InforME, click here. You maintain your own profiles, and you may check your session logs and billing summaries online, just as you do for interactive services.
If you have any questions about Driver Cross Check, email us or call us toll free at 877.212.6500.